Chapter 10
The rustic shopping baskets we carried were a must-have addition to the wardrobe of any newly-arrived foreigner such as myself. Called
cestas de esparto
in Spanish, they were made of straw with two long thick hemp rope handles which scratched your shoulders if you were wearing a sleeveless blouse or dress.
It was the basic carry-all that served not only for toting home the market shopping, but also for carrying suntan lotion and bathing gear to the beach as well as bread and cheese or fruit with a bottle of wine for a picnic.
It was evident that new arrivals to the island immediately felt the need to have one of those baskets, and I was no exception. Sporting one made a person feel like an entrenched local even though, with the exception of a few students, the resident Mallorquin people didn't use them around town as much as foreigners did, and tended to keep them for garden or farm use.
Standing in Buñola with my Basket 1968
At any time or day, that basket could contain an assortment of items such as mail from home, recently collected from the post office general delivery, an apple or two, a crusty long barra of bread , a damp bathing suit wrapped in a towel, a paperback novel or a Spanish-English pocket dictionary, a copy of The Mallorca Daily Bulletin - the local English newspaper, sun glasses and perhaps a forgotten potato or onion from the last trip to the market. One was often surprised at what could be found in the bottom depths of the basket.
Later I was to see even the writer and poet, Robert Graves, with his well-worn basket, walking from the post office down towards the café Formentor, on an outing from his home in the mountain village of Deià.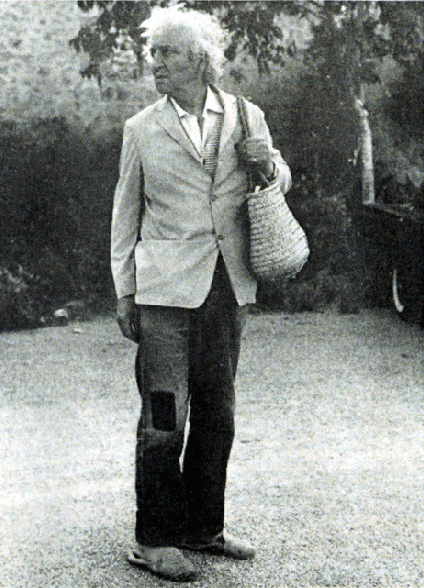 Robert Graves -
Image borrowed from The Listener, Brigham Young University
The café Formentor was a pleasant place to sit, preferrably on the outdoor terrace, while sipping a café con leche, reading the Mallorca Daily Bulletin and watching the flow of people coming and going to the post office and walking past along the Borne.
Continue on to Chapter 11......
The Guitar Centre
Go back to chapter 9......
Cooking in the Apartment